Arlene Mitchell

,

REALTOR

®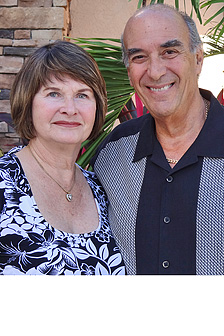 As residents and longtime real estate professionals of the Heritage Oaks Golf & Country Club, The DiCerbo team brings an incomparable level of community knowledge, which complements their remarkable customer service skills and results-oriented approach to assisting home buyers and sellers. Comprised of Tony DiCerbo, Arlene Mitchell and Shirley McNally, the team's diverse background ensures each client a successful, stress-free experience.

Tony DiCerbo enjoyed a lengthy 30-year career as the vice president of store operations for a national chain of women's retail stores before he became a Realtor in 1997. Prior to joining Michael Saunders & Company, Tony worked with Heritage Oaks Golf & Country Club Realty, Inc., where he was responsible for over 300 closed sales.

Originally from New Jersey, Arlene Mitchell spent over 20 years as an office manager in both manufacturing and construction before transitioning to the real estate industry in 1997. This experience helped her develop an extraordinary level of organizational and interpersonal skills, which translate perfectly to her role as a Realtor.

A licensed real estate professional for over 40 years, Shirley McNally's extensive background in the industry has accounted for a significant number of satisfied clients. A Florida resident since 1970, Shirley is a proven specialist in residential opportunities in Heritage Oaks and Stoneybrook Golf & Country Club.

Direct:

941.302.1049

Mobile:

941.302.1049
"I want to express my gratitude to Arlene Mitchell for her help and expertise. She sold the house very quickly. Tony was very helpful during the open houses. He also brought clients through. I would recommend the team to sell my house any day. They were very courteous and patient and respected my wishes. I have never been to a closing that was so quick and efficient. You are always in good hands with the Mitchell and DiCerbo team."

- Phyllis C.
Recent transactions
*Properties may have been sold through another
real estate broker.